Guru piari sadh sangat ji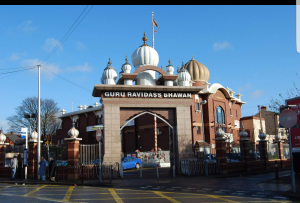 Current situation with the virus is worsening. Further restrictions are likely to be introduced by the authorities. To protect you and members of management it has been decided to close the Guru Ghar from Friday 20th March.
This was a very hard decision for the management but health and safety of everyone is of most important. We hope that you will support us in our decision and we will be monitoring the situation to make changes.
Langar for those members who require it will be made and delivered.
Thank you and God bless.
ਗੁਰੂ ਪਿਆਰੀ ਸਾਧ ਸੰਗਤ ਜੀ
ਵਾਇਰਸ ਨਾਲ ਮੌਜੂਦਾ ਸਥਿਤੀ ਬਦਤਰ ਹੁੰਦੀ ਜਾ ਰਹੀ ਹੈ. ਸੰਭਾਵਤ ਤੌਰ ਤੇ ਹੋਰ ਪਾਬੰਦੀਆਂ ਅਧਿਕਾਰੀਆਂ ਦੁਆਰਾ ਅਰੰਭ ਕੀਤੀਆਂ ਜਾਣਗੀਆਂ. 

ਤੁਹਾਡੀ ਅਤੇ ਮੈਨੇਜਮੈਂਟ ਦੇ ਮੈਂਬਰਾਂ ਦੀ ਰੱਖਿਆ ਲਈ 20 ਮਾਰਚ ਸ਼ੁੱਕਰਵਾਰ ਤੋਂ ਗੁਰੂ ਘਰ ਨੂੰ ਬੰਦ ਕਰਨ ਦਾ ਫੈਸਲਾ ਲਿਆ ਗਿਆ ਹੈ।
ਪ੍ਰਬੰਧਨ ਲਈ ਇਹ ਬਹੁਤ ਹੀ ਗੰਭੀਰ ਫ਼ੈਸਲਾ ਸੀ ਪਰ ਹਰ ਕਿਸੇ ਦੀ ਸਿਹਤ ਅਤੇ ਸੁਰੱਖਿਆ ਸਭ ਤੋਂ ਜ਼ਰੂਰੀ ਹੁੰਦੀ ਹੈ। 

ਅਸੀਂ ਆਸ ਕਰਦੇ ਹਾਂ ਕਿ ਤੁਸੀਂ ਸਾਡੇ ਫੈਸਲੇ ਵਿਚ ਸਾਡਾ ਸਮਰਥਨ ਕਰੋਗੇ ਅਤੇ ਤਬਦੀਲੀਆਂ ਕਰਨ ਲਈ ਅਸੀਂ ਸਥਿਤੀ ਦੀ ਨਿਗਰਾਨੀ ਕਰਾਂਗੇ.
ਉਨ੍ਹਾਂ ਮੈਂਬਰਾਂ ਲਈ ਲੰਗਰ ਲਗਾਏ ਜਾਣਗੇ ਜਿਨ੍ਹਾਂ ਨੂੰ ਇਸ ਦੀ ਜ਼ਰੂਰਤ ਹੈ.
ਤੁਹਾਡਾ ਧੰਨਵਾਦ ਅਤੇ ਵਾਹਿਗੁਰੂ ਮਿਹਰ ਕਰੇ.