Grand celebrations were organized by the Sangat to commemorate 642 Gurpurab of Guru Ravidass Ji on Sunday 24th February 2019. All Sangat/membership were invited with family and friends to attend the celebrations. The Akhand Path, langer and Nishan Sahib seva was by pind Gurre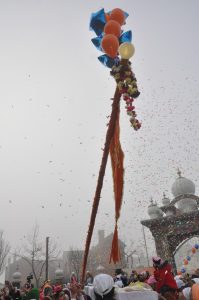 The celebrations began early in the morning with the washing of the flag post with milk and yogurt and the change of the Choula Sahib (orange covering of the flag post and the flag its self). The post was then dried and the Sangat put on a new Choula Sahib. The Nishan Sahib (flag post) was then raised with the help of the Sangat.
Than the Akhand Path Sahib Bhog took place in the Darbar Sahib Hall, followed by Shri Guru Ravidass Ji's Arti sang by children from the Bhawan's Punjabi school.
This was followed by Kirtan, religious songs and professional musicians singing religious hymns all day. The local dignitaries which included the Lord Mayor of Birmingham, representatives from the Indian consulate and local councillors address Sangat. Later, in the evening the celebrations concluded with a grand fireworks display in the Bhawan's car park.